Nottingham creates a unique investment experience for individuals, built around integrity, service, and performance.
OUTSOURCED CHIEF INVESTMENT OFFICER (OCIO)
We have a long history of partnering with financial advisors to help them win business and keep business.
We offer institutions extensive experience, sophistication, and professionalism when helping them achieve their goals.
The
Nottingham difference
begins with our sharp focus on building the
best portfolio to meet your personal goals.
Customization at every level
Nottingham Advisors employs dynamic asset allocation models for our clients, in separately managed accounts. These allow us to tailor each portfolio to the specific needs of the client, considering their unique risk and return profile.
Nottingham leverages its extensive experience, sophistication and professionalism to help clients achieve their financial goals. Dynamic risk-based portfolios, often centered around liquid, low-cost ETFs, help clients navigate through uncertainty. Nottingham's team strives to bring clients a consistent, transparent and repeatable investment process, helping ensure financial peace of mind.
Nottingham's experienced team of portfolio managers is only a phone call away. We pride ourselves on being available to customers when you need us most.
Introducing our newly launched mobile dashboard
Nottingham Advisors is pleased to introduce goNottingham, a sleek, easy-to-navigate mobile dashboard to view your financial journey. Reach your goals with personalized insights, review Nottingham notifications, documents, and monitor investments. See all your accounts in one place, in real-time. Nottingham strives to remain accessible and provide a personalized level of service to every client. goNottingham can be downloaded on Google Play or the Apple App store.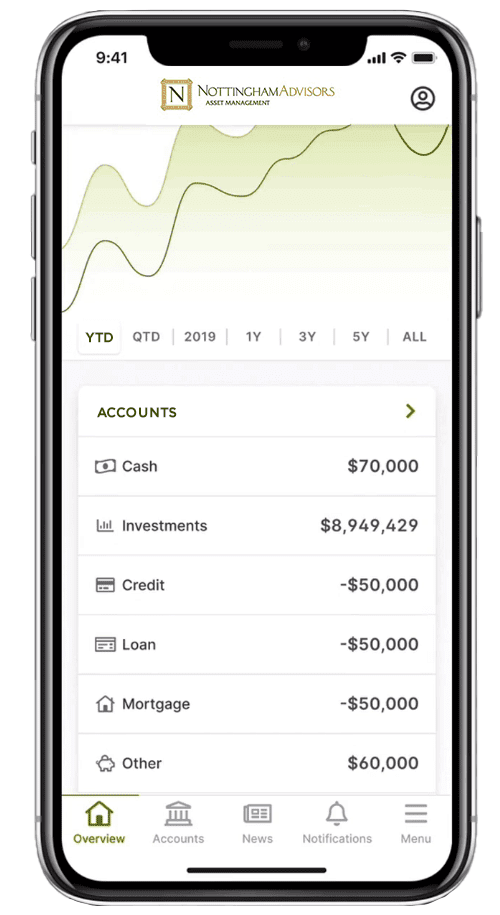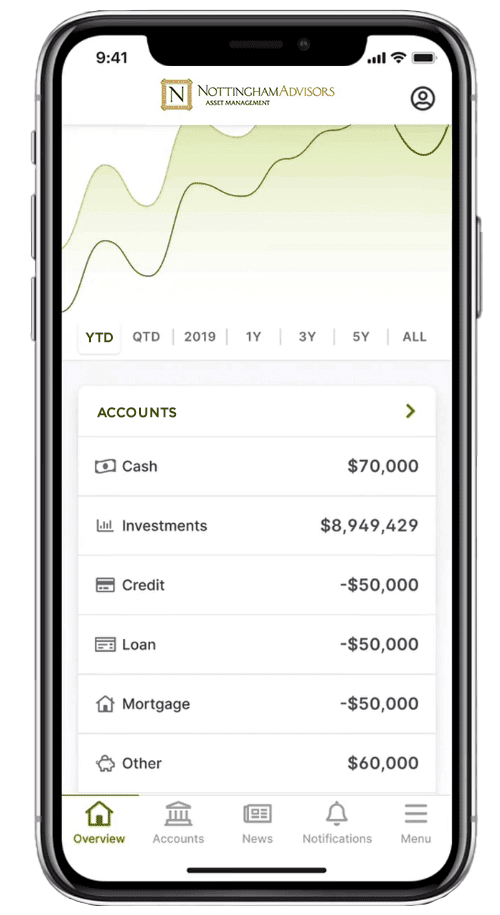 We are here to service your needs
As asset allocation specialists, Nottingham crafts global, multi-asset class portfolios from both index-based vehicles, such as exchange-traded funds (ETFs), and actively managed mutual funds. Our global index-based strategies, as well as our Select Managers Program, are available to advisors and investors via separately managed accounts (SMAs).
Regardless of the choice between index and active, Nottingham develops portfolios with two distinct components. The portfolio's core, or strategic allocation, seeks to efficiently and cost-effectively replicate market risk and return (the beta). The core may contain equity, fixed income or a combination of the two, as determined by the investor's risk tolerance. In conjunction with the core holdings, Nottingham selects various satellite or tactical exposures with the intent of managing risk or delivering returns in excess of the market (the alpha). The core typically makes up approximately 80% of the portfolio, while the satellite holdings comprise the balance.
Nottingham strives for transparency, communicating with clients every step of the way. From our Monthly Market Wrap, to the quarterly CIO Letter, to the periodic A View From the Top, we look to share our thoughts with clients in real time, helping you stay abreast of ever-changing markets.
Nottingham Advisors is a leading financial service firm that drives business through knowledge, experience, hard work, and a focus on our clients vision and goals. Our tremendously talented and dedicated staff value collaborative partnerships and provide outstanding service to our clients. We continue to remain grounded in teamwork and collaboration.
Thomas S. Quealy Jr. Chief Executive Officer
You have questions…We have
answers
Can't find an answer, we have a dedicated staff to help guide you with all of your questions. Please reach out to [email protected].
Our advisors at Nottingham are constantly engaged with what's happening around the domestic and international markets. Read the latest posts from our top watched news outlets.



Visit us or give us a call today to learn more about our offerings.